Importance of Chemicals for Construction and Building Materials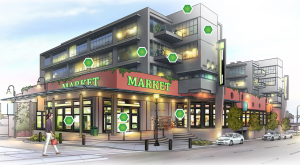 Buildings play a central role in all of our lives. In addition to providing safe spaces to work, live and socialize, buildings can help address several challenges – from reducing climate impacts, to improving occupant health and wellness, to increasing a building's resilience to natural disasters.
Building block chemicals used in construction and building materials help ensure a number of benefits, including:
Durability and longevity of building envelops, structures, and materials
Enhanced building performance and energy efficiency
Improved safety, disaster resilience and fire resistance
4 Common Building Block Chemicals Used in Construction and Building Materials  
Materials made possible by chemistry are used all over buildings – from rooftops to wall and floor coverings, to insulation and countertops and surfaces. Here are just a few of the most common construction chemicals used in building materials:
Polyurethane
As an insulation, roofing and sealant product, spray polyurethane foams (SPF) can play a major role in insulating and air-sealing homes and buildings – helping to reduce air leakage, which can result in lower utility bills, reduced greenhouse gas emissions and improved indoor air quality by helping to eliminate infiltration of dust and allergens.
Phthalates
Phthalates are a family of chemical compounds primarily used to make polyvinyl chloride (PVC) or vinyl flexible, pliant and durable. From energy-efficient roofing to flexible adhesives and sealants, to durable flooring and wall coverings, phthalates are used in building and construction products to make materials and surfaces that last longer and are easier to maintain.
Flexible vinyl products made with phthalates can help reduce a building's environmental footprint. Because it is strong and resistant to moisture and abrasion, vinyl is ideal for cladding, window, roofing, fencing, decking, wallcovering and flooring applications.
Polycarbonate
Polycarbonate is a high-performing thermoplastic that is widely used in building and construction products, from windows and skylights to wall panels and roof domes to exterior elements for LED lighting.
Polycarbonate has a number of qualities that make it useful in these applications – it is lightweight and durable, with high optical clarity, high-impact and high-heat resistance, as well as excellent flammability resistance.
Epoxy Resins
Epoxies are thermoset plastics made by the reaction of two or more industrial chemical compounds. Epoxy resins are used in a wide array of consumer and industrial applications because of their toughness, strong adhesion, chemical resistance and other specialized properties.
Epoxy resins are used in the manufacture of adhesives, plastics, paints, coatings, primers and sealers, flooring and other products and materials that are used in building and construction applications.
Other common chemicals found in building and construction include: flame retardants, formaldehyde, silicone, and plastics. Learn more about Building Safety Month and why chemistry matters in building and construction at BuildingWithChemistry.org.