You may hear a lot of talk that "chemical free" foods are the healthiest for you and your family. But even Mother Nature knows that chemicals are in everything, including the healthiest, most delicious foods.
For example, methyl butanoate, anthocyanins and auxin are just a few of the more than 350 chemicals that occur naturally in strawberries. And while these chemical names may not be easily recognized, they help make strawberries juicy and sweet.
Find out more about naturally occurring chemicals in strawberries and other seasonal summertime fruits below:
Strawberries
Peak season: May through August
Chemistry fact: The ripening process in strawberries is controlled by the hormone auxin. When the process peaks, the cell walls in the fruit begin to degrade and a strawberry becomes juicy.
See the chemistry in a graphic from CompoundChem and Chemical & Engineering News.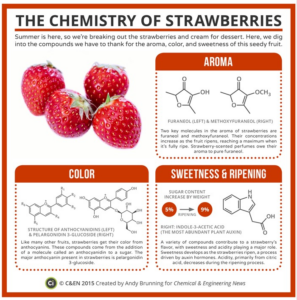 Blackberries
Peak Season: June in the South, July in the North
Chemistry fact: Blackberries contain high levels of anthocyanins (chemical structure pictured below) and other phenolic compounds, mainly flavonols and ellagitannins, which contribute to their high antioxidant capacity.
Learn more about chemicals in blackberries at the North American Raspberry and Blackberry Association.
Raspberries
Peak Season: Early July
Chemistry Fact: A raspberry contains 200 chemicals molecules that contribute to its distinctive flavor. One of these compounds, raspberry ketone, is used in candy, soaps and candles to give it a berry scent and/or flavor. Ethyl formate, another one of the compounds that contribute to the flavor of raspberries, has also been detected in the center of our galaxy.
Learn more about chemicals in raspberries from the North American Raspberry and Blackberry Association.
See CompoundChem's breakdown of raspberry chemicals below.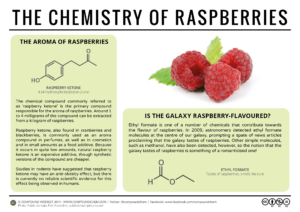 Blueberries
Peak Season: Mid-June to mid-August in North America
Chemistry Fact: Blueberries contain pterostilbene, a chemical that could be used as a potential treatment for obesity, according to some researchers.
See the chemistry in a graphic from chemistry teacher James Kennedy below.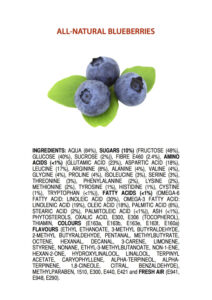 Figs
Peak Season: Late June to early fall
Chemistry Fact: Figs contain a form of the chemical benzaldehyde, which some scientists believe might inhibit growth of cancer cells. Benzaldehyde also can be used as an odor agent or solvent (for cleaning or degreasing) in manufacturing.
Learn more about the chemical composition of figs in a research article from the International Journal of PharmTech Research.